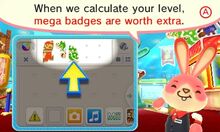 The collection is where the player can keep record of all the
badges
collected, on top that the collection stand changes as the player collects more badges.
The amount of badges shown in the stand increases by different badges collected, so if the player should collect a set that contains 7 badges twice, it would only count 7 badges, unless the badges are Mega Badges, then the collection would grow the same amount that the Mega Badge would take to fill the HOME Menu, also if the player catches a badge that is featured in multiple sets, the badge caught counts once for each set, though the player must still catch multiple copies of the badge.
Sets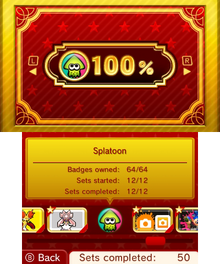 All the badges collected are separated in Sets, in turn those are grouped by their respective games.
Statues
| Level | needed amount of badges | type of statue | Image |
| --- | --- | --- | --- |
| 1 | 0 | no statue | |
| 2 | 20 | wooden | |
| 3 | 50 | stone | |
| 4 | 100 | stone | |
| 5 | 200 | bronze | |
| 6 | 350 | bronze | |
| 7 | 500 | silver | |
| 8 | 750 | silver | |
| 9 | 1000 | gold | |
| 10 | 1500 | gold | |
| 11 | 2000 | gold (larger) | |
| 12 | | | |
| 13 | | | |