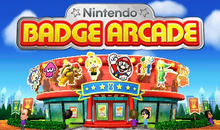 Nintendo Badge Arcade (Japanese: バッジとれ~るセンター Collectable Badge Center) is a free to play downloadable application on the Nintendo 3DS where you can obtain Nintendo themed badges from crane machines and design your 3DS Home Menu with them.
The game was launched in Japan on 17, December 2014, North America on 11, November 2015, and 13, November 2015 in Europe.
Gameplay
The game is just a crane game but inside the crane machines, there are badges from Nintendo franchises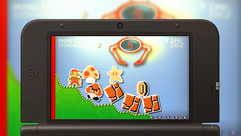 such as Mario, Animal Crossing, The Legend of Zelda, and more. The goal is to get the badges to fall into the holes in the machines, just like a real crane machine you would find in an arcade. When you first start the game, you get five free plays and you start with a Mario crane machine. Once a day, you can play on a practice crane machine and try to get the bonus badges, If you get the blue bonus badge, you'll get one free play, If you get the red bonus badge, you'll get three. You can also use your eShop credit to get five plays, One dollar is five plays.
Community content is available under
CC-BY-SA
unless otherwise noted.